So while I was on Networked Blogs looking at all the wonderful blogifuliciousness lol. I happen to see a post by a blog called Boing Boing about a girl who made a prom dress out of cardboard. Yea you know the stuff, it's usually in a box form that huggles our pizza or what the Parents send your goodies in during finals week haha. Of course I got intrigued and had to take a peak and read the article.
Believe it or not I thought it was beautifully made and something so original. To me I would think anyone who was Eco-Friendly and had their prom in April this would be the best thing EVER but it would even suffice if your prom happen to be in May, June or even July. It's a cute idea and very stylish.
Well, while I'm reading this article it said that this wasn't the first time she's made a dress, especially an eco-friendly one. Then I remembered!! I dunno if you guys and dolls ever saw the Doritos' Bag Dress, but I saw it maybe a year or so ago and thought how strange and odd, but it was cute in a weird sadistic kind of way lol. So how cool is that?? The girl who made the Doritos dress is the creator of this awesome cardboard dress also!! Her name is Maura by the way if you're wondering.
If you have no clue about either of what I'm talking about I've decided to post pictures, but be sure to read the article from Boing Boing who also has other pictures of the other prom dresses she's made.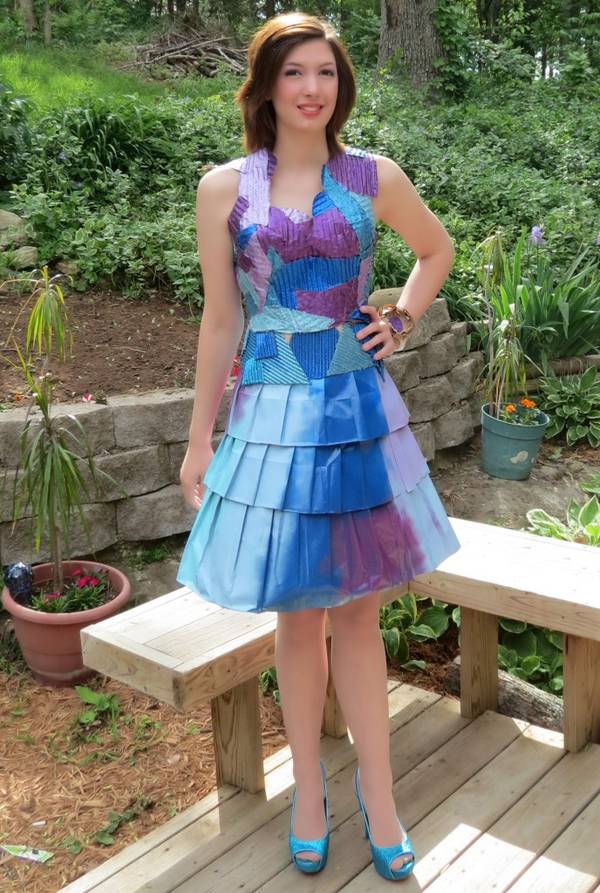 Now you honestly can't sit there and say that these two prom dress are not only Eco-Chique but absolutely gorgeous and awesome in their own way!! I wonder now if there's been anybody who try to make dresses or even clothes out of recycled items before?? If I had know she was into that sorta thing, I woulda given her all the boxes I got from getting stuff from Amazon and other places me and Madea order from lol. But maybe I'll take some time out and find out if other people have tried this and if this could be a possible and economically pleasing success for the near future.